CCM Hockey, SISU™ Guard Announce Continued Co-Branded Partnership with a New Effortless Fit 3D Guard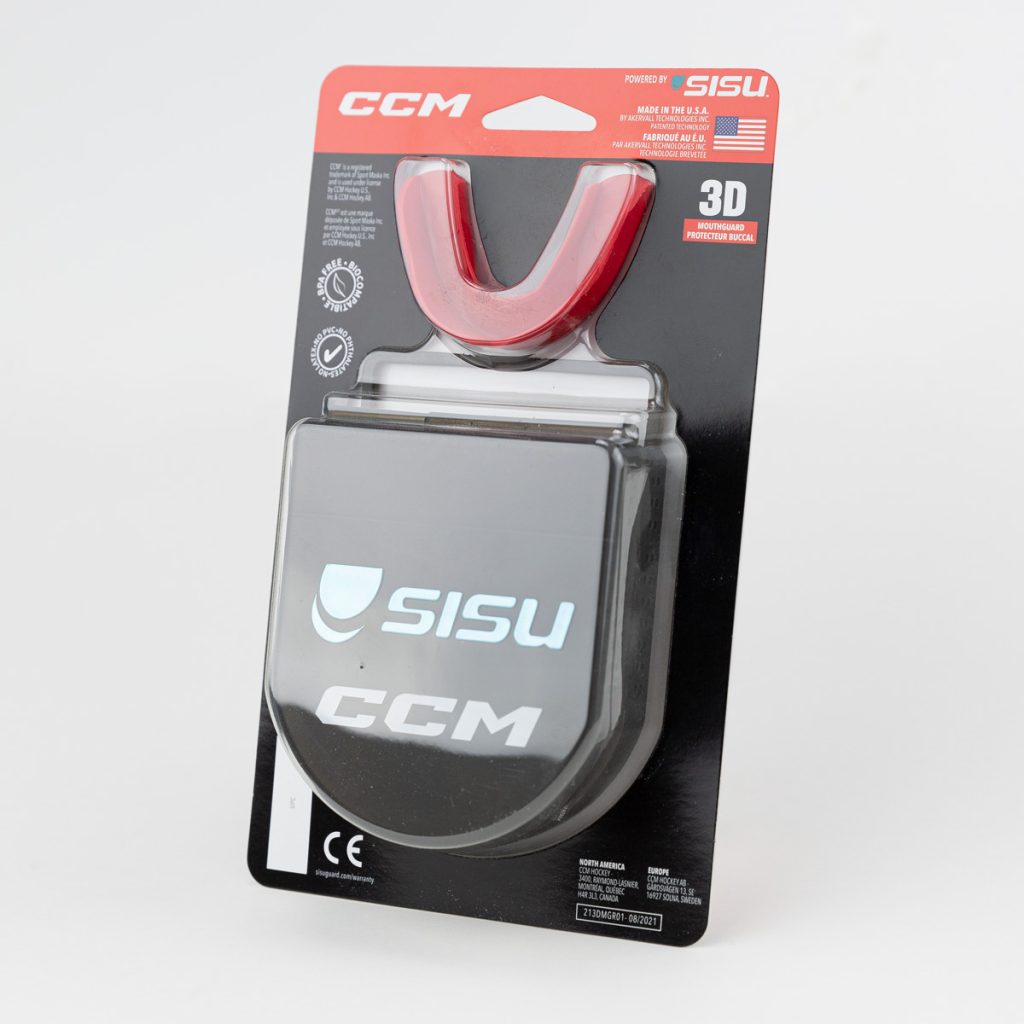 Ann Arbor, Michigan, January 14, 2022 — CCM Hockey and SISU Guard began an exclusive brand partnership in 2014 to offer hockey athletes co-branded CCM mouthguards powered by the SISU Technology. As this partnership continues into the seventh year, the duo expands the lineup with a new effortless fit 3D guard.  
SISU Mouthguards are known for their unmatched protection, comfort, cleanliness, and remoldability. The new CCM powered by SISU 3D guard improves on previous CCM SISU models and adds many new features:  
Pre-formed guard for an effortless, fast, fit and go shape 

 

Variable material thickness to put protection where it is needed and comfort where it is desired 

 
CCM powered by SISU mouthguards has revolutionized the mouthguard industry with ultra-thin, protective dental shields that allow players to talk, breathe, and drink naturally. Made from a non-compressible material, CCM powered by SISU Mouthguards protect a player's teeth and deflect impact forces. Scientifically-engineered perforations help create a custom fit that stays in the athlete's mouth during the entire game.  
"CCM has been a fantastic partner to us since 2014, and I am thrilled over our renewed relationship going forward" said Sassa Akervall, CEO of Akervall Technologies. "For ATI, working with one of the biggest hockey brands in the world has meant the SISU brand has spread even further and faster, proving that our cutting-edge technology is invaluable to athletes globally. It is an honor to be a partner of CCM, since both our brands are striving for excellence", she continued. 

"We are excited to renew our partnership with SISU and continue to offer our athletes products that provide elite protection, performance and technology. Working together is a natural fit for our brand, and the new addition of the 3D guard aligns with our goals of pushing the limits of innovation to provide the best gear to everyone on and off the ice." Jeff Dalzell, Chief Product Officer CCM Hockey. 
About SISU Mouthguards  
The SISU brand is widely recognized in the athletic community as a more robust alternative that is lighter and less obstructive than traditional mouth guards. SISU Guards are manufactured by Akervall Technologies, Inc (ATI), headquartered in Saline, MI. ATI is comprised of a management core, manufacturing facility, and R&D division, where a dedicated team of world-renowned scientists works tirelessly to invent new technologies in mouth protection. The company was Inc Magazine's list of fastest growing privately held companies in the USA, 3 consecutive years. For more info, visit www.sisuguard.com.  
About CCM Hockey  
Hockey is a leading designer, manufacturer and marketer of hockey equipment. With its headquarters located in Montreal, the company has operations in Canada, the United States, Europe and Asia. CCM Hockey equips more professional hockey players than any other company, including superstars like Auston Matthews, Connor McDavid, Matt Dumba, Sidney Crosby, Alexander Ovechkin, key female players such as Brianna Decker, Kendall Coyne Schofield and Sarah Nurse and top performing Goalies such as Jakob Markstrom, Thatcher Demko and Philip Grubauer. CCM Hockey is also the official outfitter of the American Hockey League, the Canadian Hockey League, and several NCAA and National teams.  
Media Contact:      
Amy MacIntosh  
Creative and Marketing Director   
SISU Guard || www.sisuguard.com     
800.444.0570  
Jodi Clark 
Brand Communications & PR Manager 
CCM Hockey  
jodi.clark@ccmhockey.com 
Related Links